Unraveling the Cost of AC Replacement
When it comes time to replace your AC unit, one of your primary concerns will likely be the cost. In this post, we break down the different factors that can affect the cost of AC replacement, to help you understand and plan for this important investment.
The decision to replace your air conditioner is not always an easy one. Apart from the comfort and convenience of having a functional cooling system, the cost of an AC replacement is a significant consideration for most homeowners. However, at Spectrum Heat & Air, we're committed to educating you about the factors that influence the hvac replacement cost and showing you why an efficient AC unit can be a worthwhile investment in your Aubrey, TX home.
Table of Contents
Why You Might Need an AC Replacement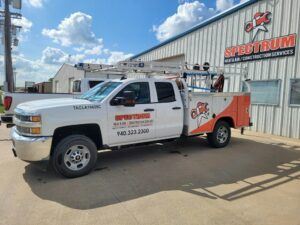 Sometimes, an air conditioner may reach a point where it's more economical to replace it rather than repair it. Factors such as age, efficiency, frequent repairs, and inadequate cooling can all signal that it's time for a new system. But how much can you expect to pay for an AC replacement?
Read about 5 Signs You Need an AC Replacement
Understanding the Factors That Influence AC Replacement Cost
Several factors can influence the cost of replacing an air conditioner. It's important to understand these elements to have an accurate estimate for residential AC replacement in Aubrey TX or the nearby surrounding areas of Dallas Fort Worth:
Size of the Unit: The size of the unit you need is one of the most significant cost determinants. Larger homes will require larger, more powerful units that are usually more expensive. You may think buying a larger unit than necessary would be a good idea, but a unit that's too large can cycle too quickly, leading to increased wear and tear and reduced lifespan.
Energy Efficiency: More energy-efficient models can cost more upfront, but they can save you money on energy bills in the long run. Efficiency is usually measured in terms of a unit's SEER (Seasonal Energy Efficiency Ratio) rating. The higher the SEER rating, the less energy the system uses to cool your home, and the more cost-effective it will be over time.
Brand and Quality: Higher-end brands and models tend to cost more due to their quality and additional features. These models often have a longer lifespan, better warranties, and advanced features like smart home compatibility, variable speed motors, and noise reduction technology.
Installation Complexity: The more complex the installation, the more time it will take, and the more it will cost. Factors like the layout of your home, the need for ductwork modifications, and whether a new thermostat is needed can all add to the installation cost.
Investing in a New AC System: A Cost-Effective Decision
While the upfront cost of an AC replacement can seem high, it's essential to consider it as a long-term investment. An efficient air conditioner can offer significant savings on energy bills and reduce the need for costly repairs. Moreover, it can improve the comfort and value of your home.
Finding an Affordable AC Replacement Service
If you're searching the web with terms like, "residential AC replacement in Aubrey TX" or "AC replacement service in Aubrey," it's crucial to choose a company that offers fair and transparent pricing. At Spectrum Heat & Air, we understand that every customer's needs and budget are unique. We offer tailored solutions and flexible financing options to make your AC replacement as affordable as possible.
The Spectrum Heat & Air Difference
When it comes to AC replacement, you want to feel confident in your decision. Our team of experienced professionals is dedicated to educating and empowering you throughout the process. We don't just provide a service; we provide a partnership. We believe in transparency, honesty, and customer satisfaction above all else.
The cost of AC replacement is indeed a significant consideration. But remember, it's also an investment in your home and your comfort. With Spectrum Heat & Air, you can trust you're making an informed and cost-effective decision.
Schedule Service
Is it time for you to choose an AC replacement? Reach out to us at Spectrum Heat & Air, your trusted HVAC contractor in Aubrey, TX. We're here to ensure your new AC unit runs efficiently all year round.